Ankeny Bark Avenue
Ankeny Bark Avenue Pet Resort is located near the intersection of SE Shurfine Dr and SE Delaware Ave. We are the Ankeny, IA area's premier location for Dog Boarding, Dog Daycare and Grooming. Give us a call and ask about our specials.
Address: 915 SE Shurfine Dr
Ankeny, IA  50021
Phone:  (515) 964-9898
Fax:  (515) 964-7835
Business Hours
Monday - Friday 7am - 6pm
Saturday 8am - 4pm
Sunday  2pm - 5pm
Dog Daycare - Available Monday through Saturday
Grooming Hours - By Appointment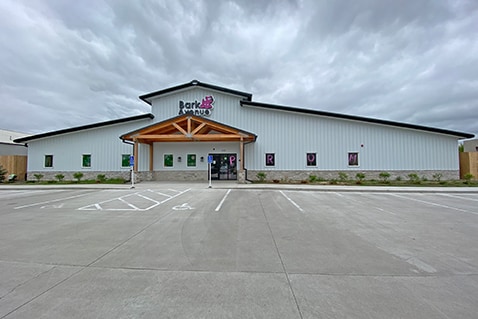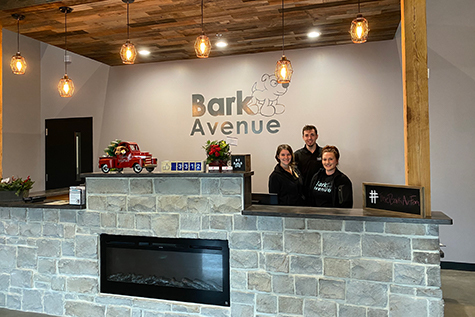 Family Owned Pet Care Services in Ankeny, IA
While you enjoy a get-a-way for a day, so can your furry family member at Ankeny Bark Avenue in Ankeny, IA! Here, we provide a variety of important services while treating your pet like one of our own!
We are a family owned business and have been voted first and second place for 'Best Doggie Daycare' and 'Best Groomer' in 'Ankeny's Best' for the last 12 years.
We provide a wide range of accommodations to suit every pets needs and wants. We offer dog daycare, pet boarding, dog grooming and various walk-in services.
Dog Daycare is offered from Monday through Saturday and is an incredibly fun way for your dog to get involved with others! Activities include snuggle time, fetch and many other doggie games! Your pup will get to interact with other dogs and our pet-loving staff when here for dog daycare and dog boarding in Ankeny.
Unlike other dog boarding facilities in Ankeny, IA we provide custom reservations where you get to pick the level of activity that is perfect for your pet to enjoy while staying with us. Pets are both happier and healthier when they have increased activities and interaction, especially when they are away from home. So we have taken our most popular activities and created three discounted activity packages. Each package has a different activity level which offers the perfect solution for every pet.
We offer many dog grooming services whether you are here to play, here to stay or just here for the day! All of our dog grooming packages - from basic to VIP - include a Nail Trim/Grind, Ear Cleaning and a Full Brush-out. We allow walk-ins for Nail Trim/Grind, Facial Trims, Paw Pad Trims and Anal Gland Expression. Ankeny Bark Avenue is conveniently located on Shurfine Drive.  We look forward to seeing you and your furry family member soon here at Ankeny Bark Avenue!
Call one of our three locations to get started!
Testimonials
We have been taking our 11 month old puppy to Bark Avenue for about 6 months now and we love it. Charlee enjoys going there to play and we love that she burns off a lot of her energy. We also have Bark Avenue groom her and they do a great job with that as well. We have also taken advantage of their overnight boarding services. The staff is always friendly and love all the dogs that they have. I would recommend them to anyone who is looking for a place to take their dogs."- Bret A.
The staff is fantastic- you couldn't find a friendlier, more personable collection of dog-lovers. Our Samoyed Pearl is always happy to go see her daycare friends-and comes home with a smile on her face. - John D.
I have a story to share that was a life saver not just for my pet, Yoshi, but also for me. I had been in the hospital and came home just to go into congestive heart failure. I did not know what to do. For me I could call the ambulance and for Yoshi I called Syd (Bark Avenue) who became our angel. She came and got Yoshi at 12am before the ambulance even came. God Bless you Syd. I have to acknowledge all the owners and staff for their kindness to all the dogs in their care. I love the placement of the dogs due to their size and needs. They also plan events such as their puppy bowl games. All I have to say is "want to go to the puppy house?" And my pet Yoshi is jumping like crazy and ready, ready, ready to go! - Drucilla H.
We've been taking our dog(s) to Bark Ave for a few years now and every time I pick my dog up, she's worn out and happy! They truly take the time to listen to special specifications you have for your dog and if they cannot answer your question, they find an answer in a timely manner! (When we boarded her over Christmas break, they even took the time to brush her teeth 1x a day!) Their customer service is fantastic! We are loyal to the Ankeny dog park and everyone there always talks so highly about Bark Ave. They truly let dogs be dogs in a family-like environment. I refuse to take my dog anywhere else! This place is amazing... We love it! - Nina S.