Quality Dog Boarding
When you're away on vacation, you want to know your dog is receiving the best of care and having lots of fun. At Ankeny Bark Avenue in Ankeny, IA, Bark Avenue West in West Des Moines, IA, and Bark Avenue in Waukee, IA, you'll know that your dog is surrounded by lots of love and a trained staff that treats your dog like their own. Our dog boarding guests receive top of the line treatment at our relaxing and fun pet resort!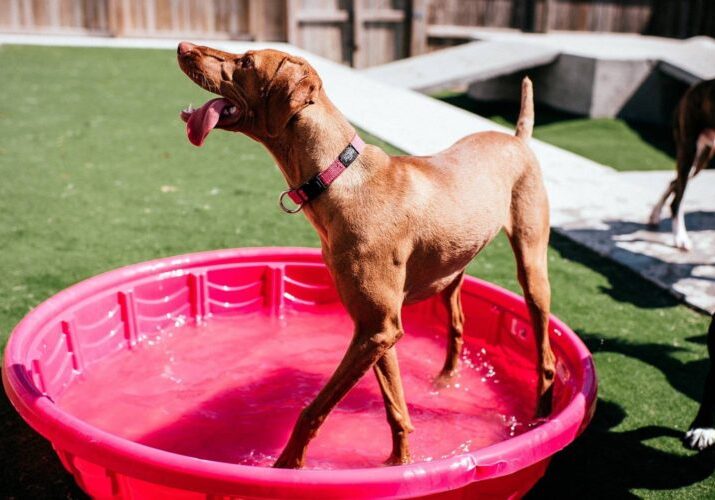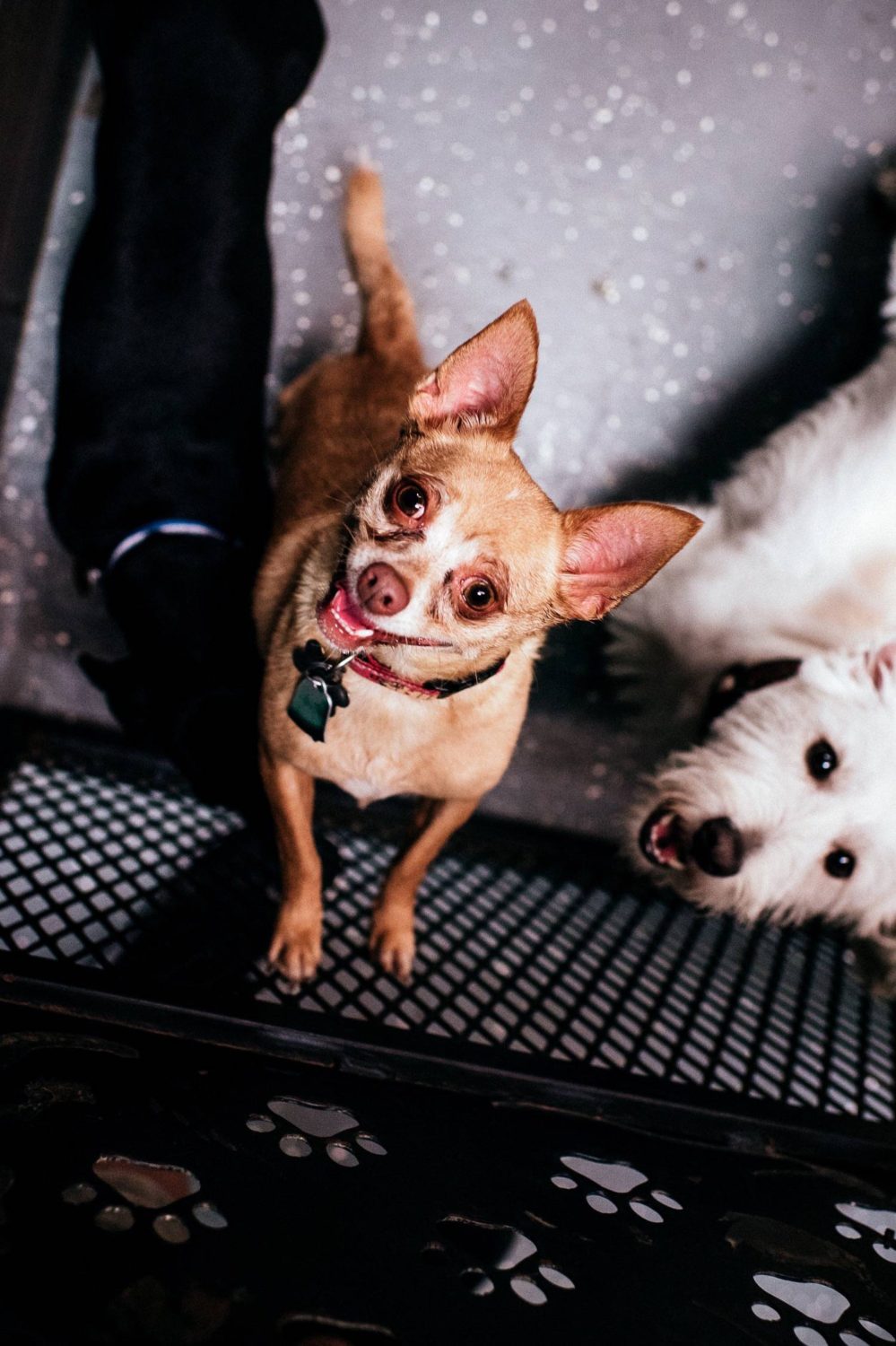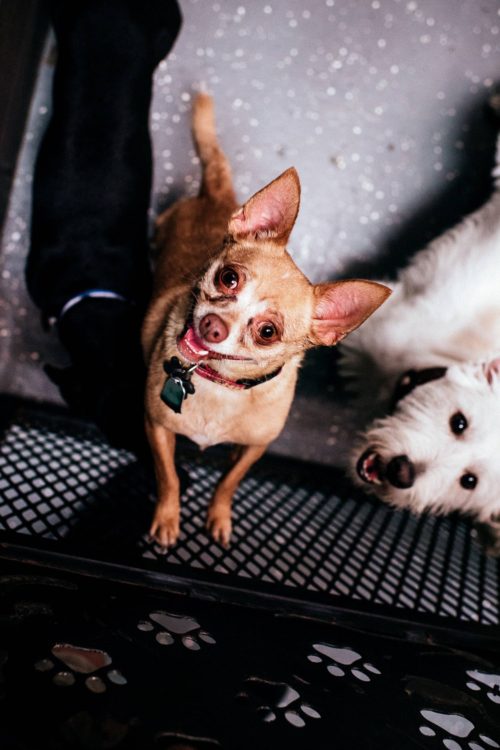 Our dog boarding accommodations are all comfortable and spacious and recommended by leading veterinarians in the area.
Unlike most pet care facilities, our Pet Resorts offer the following amenities:
Climate Control - Our indoor play and living areas feature year round climate control including air conditioning in the summer.
Security Systems - All locations have state of the art security to keep your pets safe 24/7.
Bedding Options - We provide cozy fleece blankets.
Housekeeping - Our staff cleans to the highest quality standards with pet-friendly cleaning solutions.
Music - Relaxing music is played throughout for a calming effect on your pet.
Nutritious Food - We proudly serve Nutro Lamb & Rice Premium Pet Food. However, you're welcome to bring your own food. If so, please bag and label each serving separately. 
Wellness checks - Each day our trained dog boarding staff monitors each dog with a five point wellness check to give you extra peace of mind.
Suites - Our suites are even larger and provide an extra quiet area. All of our suites have raised beds with comfy blankets
Trained Staff -  Our staff participates and have been certified in Outstanding Pet Care Learning Center's programs. This provides our staff the most up-to-date and comprehensive industry training available.
Rates for our standard overnight care start as low as $34.95
Call one of our three locations to get started!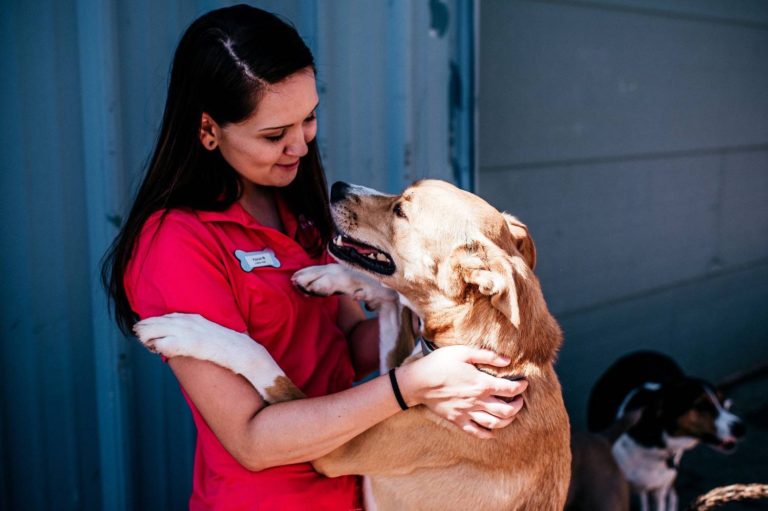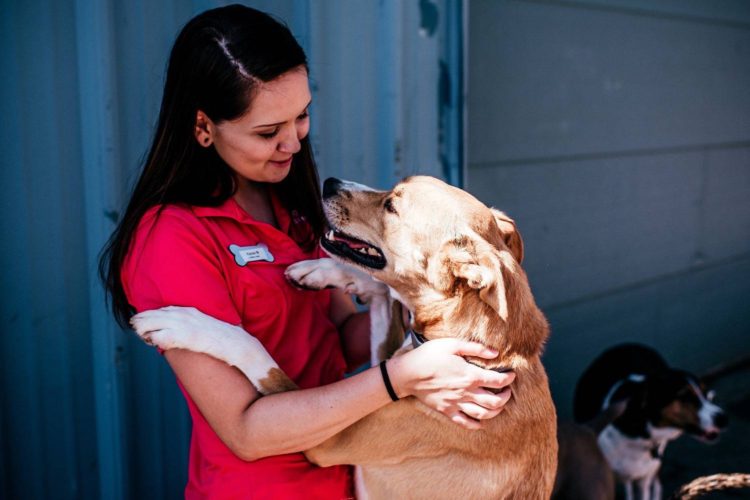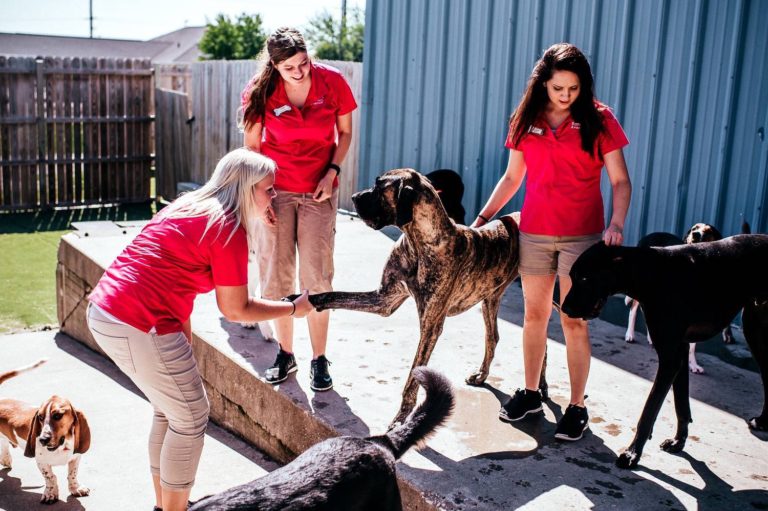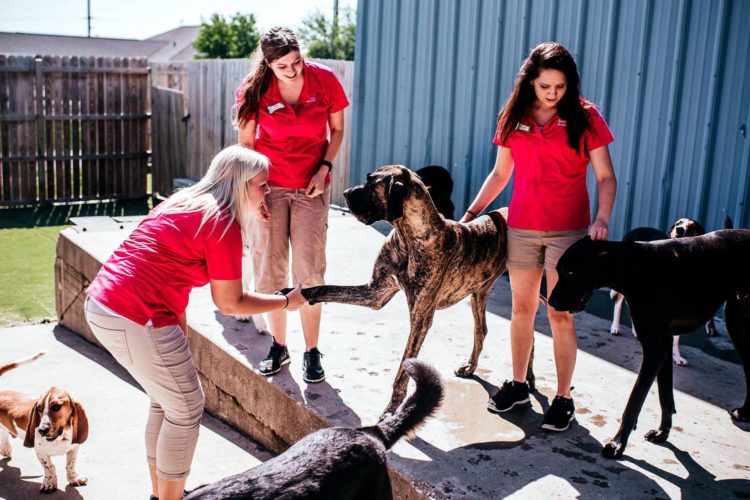 Dog Boarding Activities
Today's family dog is a very social creature. That's why activities and human interaction are such a critical part of a pet's well-being. This is especially true while they're boarding away from home. If your dog is social, we want them engaged and looking forward to playing with furry friends. If your dog prefers spending time with humans, they can enjoy their favorites like playing fetch, stimulating walks or time cuddling.
Activities and Pampering
For dogs that are social and play well with other dogs, we offer safe and supervised group play. For our furry dog boarding guests that prefer to hang out and play with staff members, we offer individual activity sessions.
Activity Packages
Because activities are so important to the well-being of dogs, we have bundled some of our most popular activities into dog boarding activity packages. Our reservation specialist can recommend fun filled activity packages that your pet can enjoy during their stay with us!
Some of our Fun Dog Boarding Activities Include:
Group play with other dogs - Dogs have a blast romping with other dogs. Our supervised group play sessions happen in either our outdoor or indoor play yards. We have playground equipment for our furry guests to climb on, and tunnels to run through and lounge on when a break is wanted. Our large outdoor play yard is lined with K9 grass specifically designed for canine comfort and cleanliness.  We have 8 foot high secure fencing and doggie pools (when the weather is nice). Our guests love the fresh air!
One-on-one playtime or pampering with a staff member - focused on what your dog loves to do. Ball time, Frisbee, splash time in our pools, cuddles. Your dog is the focus and will love this one-on-one time!
Business walks - an extra trip to the outdoor elimination area for our canine friends who prefer additional potty breaks.
Tuck-ins - just like at home-the ultimate pampering! One of our staff gets the fun job of cuddling your pet and preparing your pet for a quiet and peaceful night of rest.
Delicious, gourmet treats -  Yummy! Our treats are pumpkin based, so they are super yummy and very easy on our guest's tummies!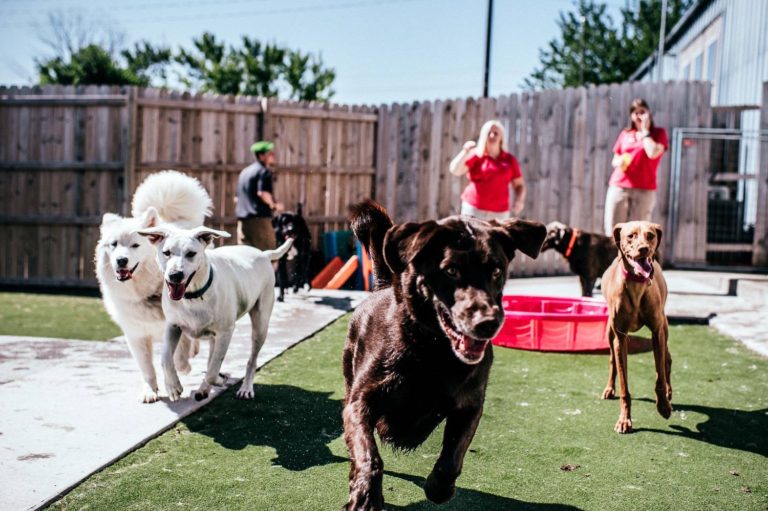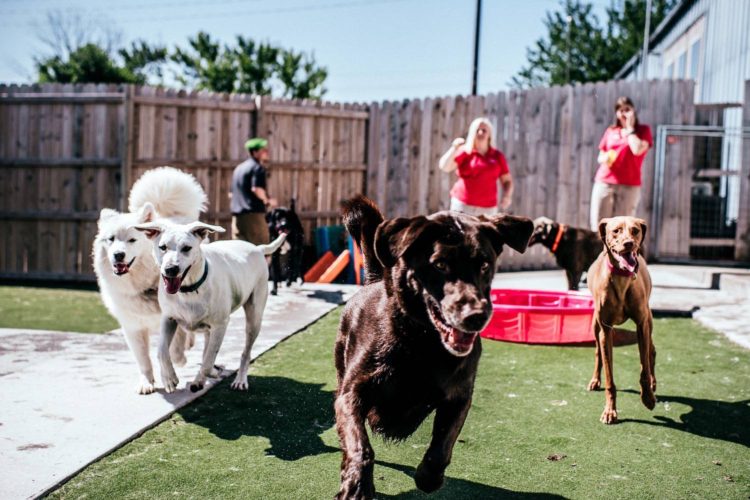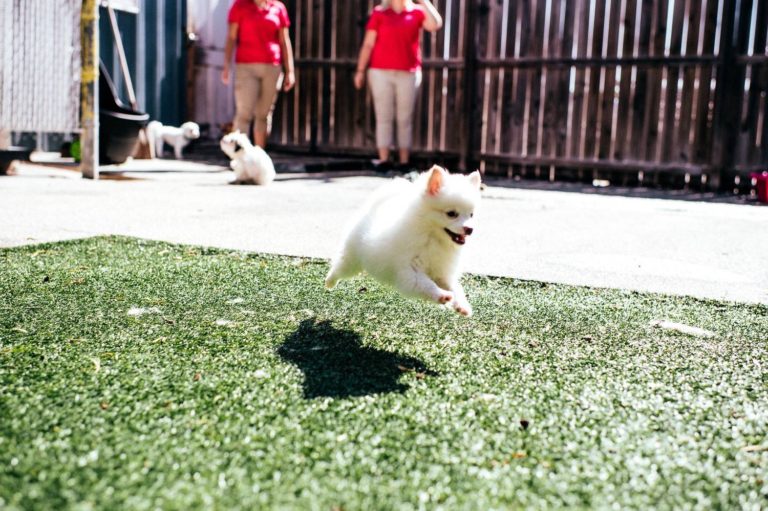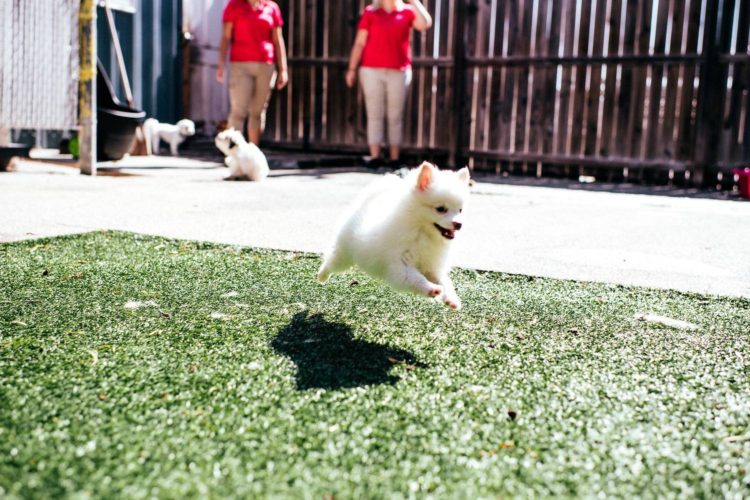 Call one of our three locations to get started!
What Our Customers Are Saying
We love Bark Avenue and everyone there!  They realize that dogs are family members and not just pets, and treat them all like they are a part of THEIR family!  Our dog, Sadie, loves to go and play with her friends (both human and four-legged), and have spa days with the excellent groomers there!   When we go out of town, I have peace of mind because I know that Sadie is receiving the best care there is!  I just can't say enough about how friendly, knowledgeable, and helpful everyone at Bark Avenue is!  We truly feel "at home" there!
- Shelly (Sadie's Mom)
Frequently Asked Questions
To keep our resort a safe and healthy place for dogs, we require vaccinations for rabies, distemper combo, and Bordetella.