Waukee Location
Waukee Bark Avenue Pet Resort is located near the intersection of SE Alice Rd and SE Frontier Ave next to Sports Plex West. We are the Waukee, IA area's premier location for Dog Boarding, Dog Daycare and Grooming. Give us a call and ask about our specials.
755 SE Frontier Ave
Waukee, Iowa 50263
Phone:  (515) 336-6588
Fax: (515) 964-7835
Email: waukee@barkavenuepetresorts.com
Business Hours
Monday - Friday 7am - 6pm
Saturday 8am - 4pm
Sunday  3pm - 5pm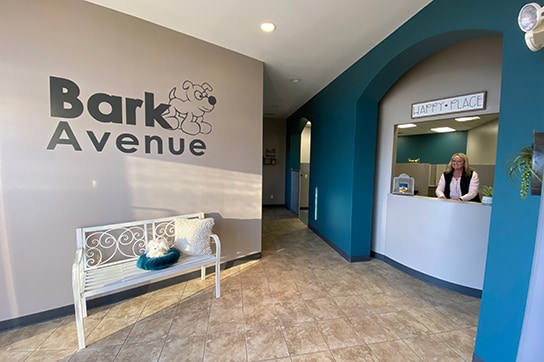 Call one of our three locations to get started!
Testimonials
Talla loves spending the day at Bark Avenue West with her friends. She can hardly contain her excitement. The staff is wonderful, caring, and friendly. Their doggie daycare comes Talla recommended. - Matt P.
Koda has loved Bark Avenue West since he was 10 weeks old. He's excited every morning he gets to go to daycare. He enjoys playing with all of his buddies which is great because it has socialized him to interact well with other dogs. And, we are so thankful the Bark Avenue West knows him so well and takes great care of him while we're at work! -Scott S.
We love Bark Avenue West because our Tate LOVES Bark Ave West!  She has fun, burns energy and we have no quilt while out and about or at work. The employees genuinely love the pups too! 🙂 - Angie S.

Zoe has been going to Bark Avenue for 1 1/2 years and absolutely loves it.  The staff is great with her and she comes home exhausted. She gets so excited to see friends and the loving staff. I could ask for a better daycare. - Bridget B.