Waukee Location
Waukee Bark Avenue Pet Resort is located near the intersection of SE Alice Rd and SE Frontier Ave next to Sports Plex West. We are the Waukee, IA area's premier location for Dog Boarding, Dog Daycare and Grooming. Give us a call and ask about our specials.
755 SE Frontier Ave
Waukee, Iowa 50263
Phone:  (515) 336-6588
Fax: (515) 964-7835
Email: waukee@barkavenuepetresorts.com
Business Hours
Monday - Friday 7am - 6pm
Saturday 8am - 4pm
Sunday  2pm - 5pm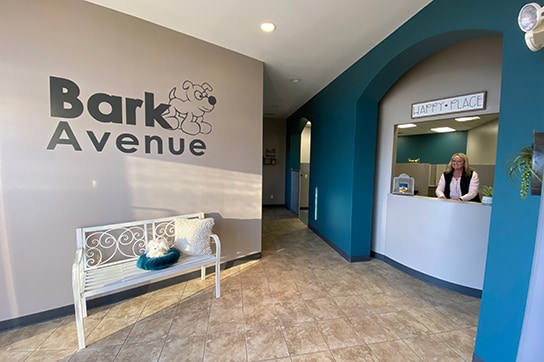 Family Owned Pet Care Services in Waukee
While you enjoy a get-a-way for a day, so can your furry family member at Bark Avenue in Waukee, IA! Here, we provide a variety of important services including pet boarding, dog daycare and dog grooming while treating your pet like one of our own!
We are a family owned business and have been providing superior pet care for over 7 years. We provide a wide range of accommodations to suit every pets needs and wants. We offer daycare, lodging, grooming and various walk-in services.
Daycare is offered from Monday through Saturday and is an incredibly fun way for your dog to get involved with others! Activities include snuggle time, fetch and many other doggie games! Your pup will get to interact with other dogs and our pet-loving staff when here for daycare and lodging.
Unlike other lodging facilities in the area, we provide custom reservations where you get to pick the level of activity that is perfect for your pet to enjoy while staying with us. Pets are both happier and healthier when they have increased activities and interaction, especially when they are away from home. So we have taken our most popular activities and created three discounted activity packages. Each package has a different activity level which offers the perfect solution for every pet.
We offer many grooming services whether you are here to play, here to stay or just here for the day! All of our dog grooming packages - from basic to VIP - include a Nail Trim/Grind, Ear Cleaning and a Full Brush-out. We allow walk-ins for Nail Trim/Grind, Facial Trims, Paw Pad Trims and Anal Gland Expression. Waukee Bark Avenue Pet Resort is located near the intersection of SE Alice Rd and SE Frontier Ave next to Sports Plex West.
Call one of our three locations to get started!
Testimonials
Talla loves spending the day at Bark Avenue West with her friends. She can hardly contain her excitement. The staff is wonderful, caring, and friendly. Their doggie daycare comes Talla recommended. - Matt P.
Koda has loved Bark Avenue West since he was 10 weeks old. He's excited every morning he gets to go to daycare. He enjoys playing with all of his buddies which is great because it has socialized him to interact well with other dogs. And, we are so thankful the Bark Avenue West knows him so well and takes great care of him while we're at work! -Scott S.
We love Bark Avenue West because our Tate LOVES Bark Ave West!  She has fun, burns energy and we have no quilt while out and about or at work. The employees genuinely love the pups too! 🙂 - Angie S.

Zoe has been going to Bark Avenue for 1 1/2 years and absolutely loves it.  The staff is great with her and she comes home exhausted. She gets so excited to see friends and the loving staff. I could ask for a better daycare. - Bridget B.